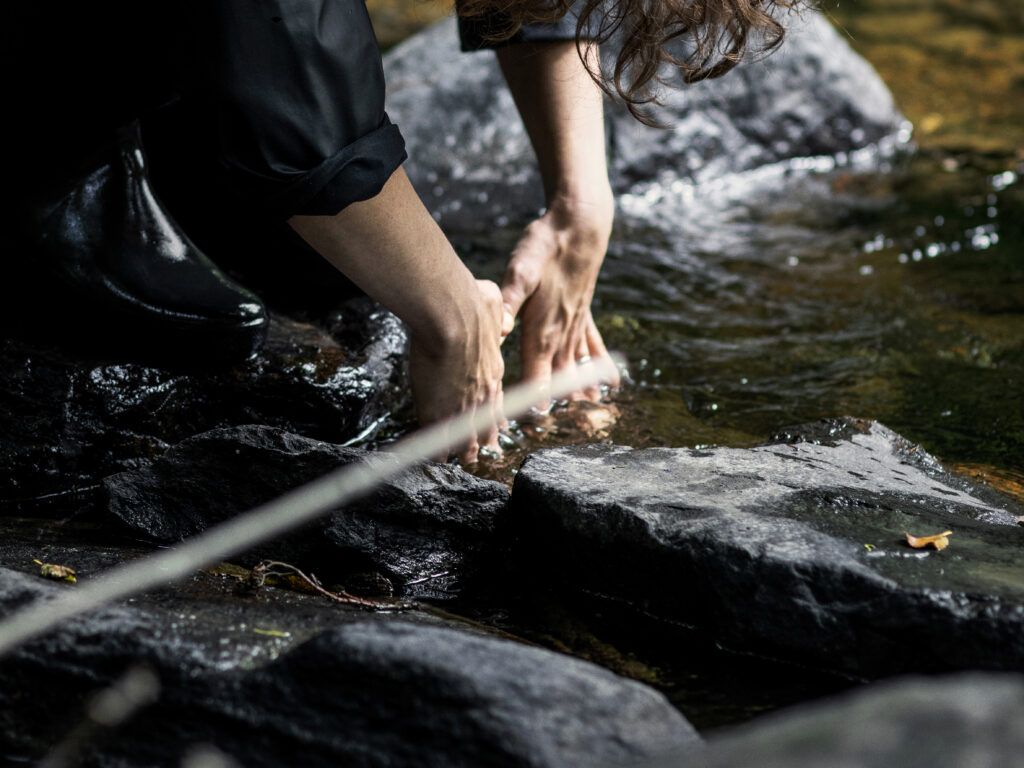 Utställningen By this river. From source to pond. presenterar en serie fotografier, en vitrin samt ett nyproducerat fotografiskt zine av Kim Ramberghaug och Jessika Thörnqvist. En annan version av arbetet visas samtidigt på Nordic Light Festival of Photography i Kristiansund och har tidigare tidigare visats i utställningen Ruralitet – centrum, periferi på Rackstadmuseet i Arvika.
"By this river. From source to pond. ingår i en serie arbeten i vilka vi undersöker den frivilliga avgränsningen som konstnärlig metod och utforskar kartans begränsning som formel. Vi använder oss inte av system för systemets skull, utan för att undersöka dess möjlighet som metafor för innehåll. Avsikten är att i fotografi försöka teckna en (fragmenterad) kartografi över en geografisk plats. I ett tidigare projekt utgår ifrån en nedlagd cirkulär järnvägslinje i Paris, men i By This River. From Source to Pond. arbetar vi längs stigar och strandsnår som följer vattendraget Viksälven som passerar vår gemensamma stuga i Värmland.
Med utgångspunkt i en tecknad linje på en befintlig upphittad karta som visar den del av älven som löper från sjön Racken i norr till Rackstaddammen i söder, utforskar vi det på förhand bestämda fältet genom att vandra och fotografera i det föränderliga landskapet längs älven. Avsikten är inte att undersöka landskapet som genre, utan naturen som erfarenhet. Fotografierna fungerar som en slags fältanteckningar och vad vi inte känner till på förhand verkar som inspiration i vårt försök att lära känna älven. I ett observerande fotografi viker vi undan för det givna och söker efter mer efemära motiv, tillfälligheter och perifera detaljer. Observationer leder till abstraktioner."
Några av fotografierna från Viksälven har handkolorerade detaljer och de är alla ramade med obehandlade trälister som tillverkats av en al som vuxit i närheten av platsen.
Utställningen pågår 07.11. – 28.11.2020.
Vernissage lördag 7 november kl 13.00 – 16.00.
Please follow and like us: